Especially for the Independence Day of Ukraine, together with the "Garneselo" and "MadeinUkraine" projects, we created a special line of coffee dedicated to home - the place where our history began and gave rise to a beautiful future. For today's brave and independent Ukraine, such a home is a Ukrainian village. And for each of us, it is a colorful palette of love and warmest childhood memories.
madeinukraine_org is a project that introduces us to great Ukrainian brands, and Garneselo" captures beautiful moments through the camera lens. On their page you will find many warm aesthetic photos of the Ukrainian village.
We took these photos, added warm stories from life to them and selected delicious coffee so that you can plunge into childhood with us.
We managed to create a set that you want to give to loved ones and share with them the most valuable. In it, you will find avoska, aromatic coffee and a cup similar to the one you had in your childhood. All elements can also be purchased separately or combined into a separate box.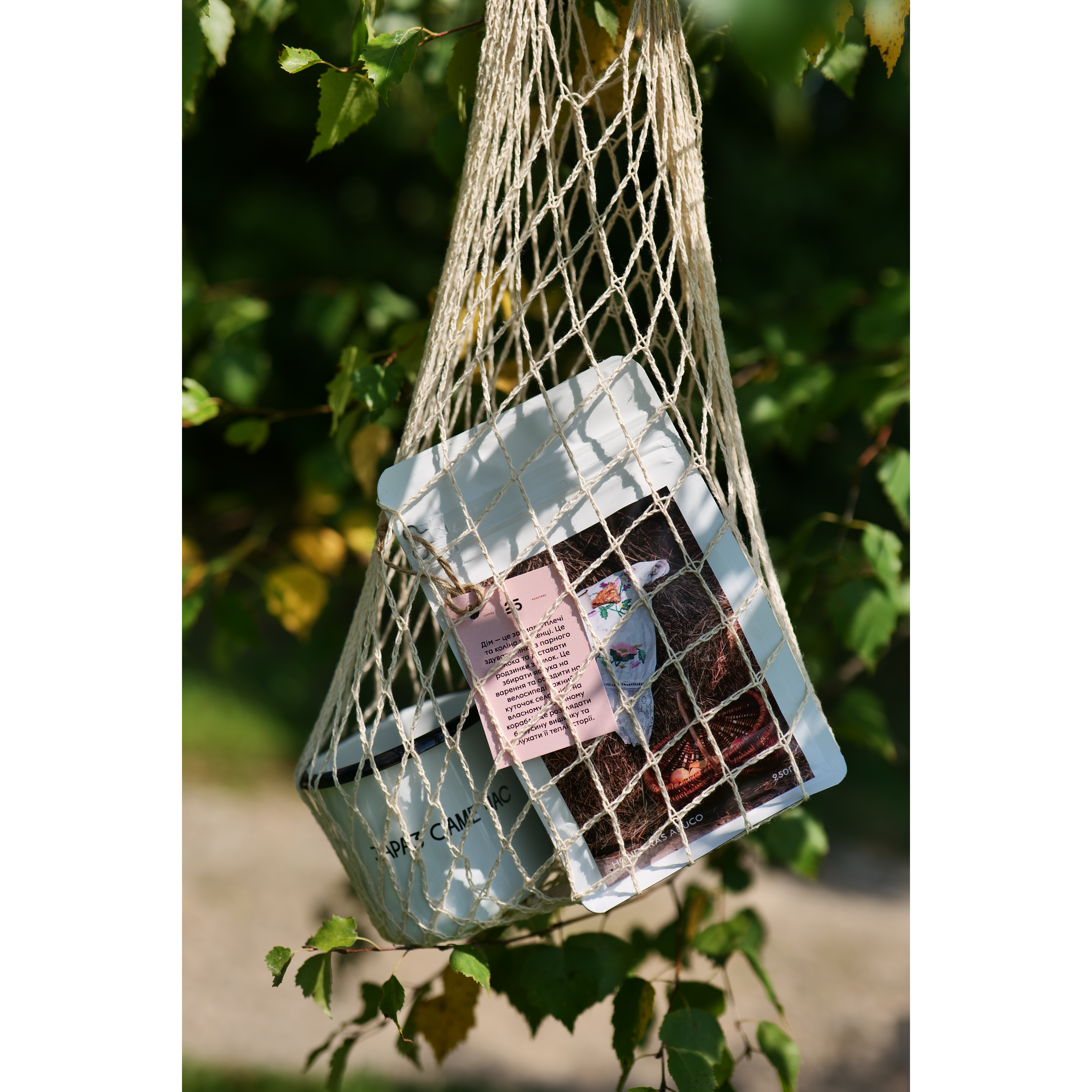 While working on the project, we realized that, usually, memories are not even about specific places or events, but about their details, which have acquired a special, unique meaning. It's about the taste of grandmother's dumplings with cherries and the rustle of grandfather's newspaper. It's about my mother's flower bed with mallows and the way home after a long walk with my father on vacation.
We cherish these memories all our lives and keep them in the casket of our souls as the most valuable treasures. They bloom with marigolds and float on the slopes of the evening Carpathians. They made us who we are and gave us the impetus for development.
We wrote something special on each pack. After viewing all items from the collection, you will definitely find memories that will resonate with you and you will recognize them. Suddenly you will find yourself on the porch of your native house and pet a fluffy kitten basking in the sun. Pick a ripe mulberry right off the tree and try the same cold compote again from the pitcher. The fluffy August grass will tickle your feet and you will really want to go on adventures with friends like before

< /p>
For the sets, we chose coffee from the 25 Coffee Roasters line, because it only contains Arabica of exceptional quality and sophisticated flavors and compositions. Each of them is like a work of art. You can add Kenya Kegwa PB 250g to the set , Honduras Aruco 250g, El Salvador Acalem 250g, Rwanda, Akagera Kabare 250g, Ethiopia Gerba Dogo 200g or < a href="https://25coffeeroasters.ua/china-kong-que-200-espreso/coffee/25-coffee-roasters" target="_blank">China Kong Que 200g in new designs and two types roasts.
Brew in your favorite way, invite your loved ones or be alone.
Don't push away the memories, live them fully and enjoy them as if for the first time, without missing any moments of life . Touch them, take a deep breath and enjoy your favorite coffee.